Eric Olafsen '21 hits a home run with Worcester Red Sox
On Tuesday, January 17, the Worcester Red Sox Woo Sox Foundation Care-A-Van visited campus to give the Westfield State community a warm welcome back as students and faculty came together for the first day of classes for the semester.
The Woo Sox Care-A-Van gave out Woo Sox gear and snacks while the team's Smiley Ball mascot encouraged the Westfield community to get excited about the upcoming baseball season.
This fun event was hosted by the Westfield State Alumni Office and organized by Westfield State grad, Eric Olafsen ('21) who works as the Coordinator of Marketing and Polar Park Events for the Woo Sox.
When asked about how his studies prepared him for his career, Olafsen noted, "My professors and classes at Westfield State prepared me for the workforce right out of college. My time working in the Westfield State Athletics Department helped me land an internship with the Worcester Red Sox, and shortly after, a full-time job with the organization."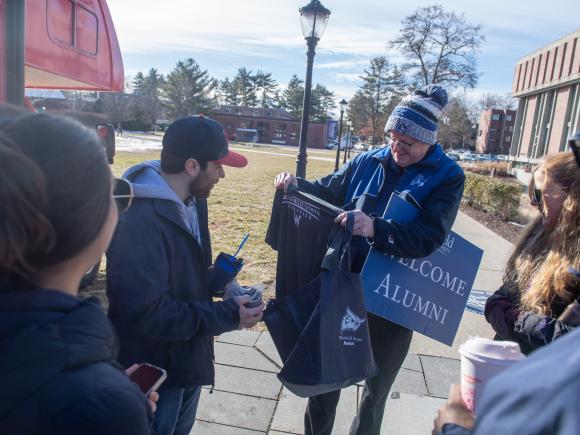 As a true testament to the power of Westfield State's career development programs, Olafsen has gone from learning the ropes as an intern to supervising the team's summer and winter interns each year.
He continued, "My favorite thing about Westfield State was all the experience and knowledge gained, and all of the advice and support that was given. Working as a Sports Information Assistant under Director of Athletics Dick Lenfest, Associate Athletics Director Dave Caspole, Nate Bashaw and others in the Athletics Department, I was set up for success. I am truly grateful for everything that they taught me about the sports industry."
Caspole in turn praised Olafsen's work as a student supporting the Owls baseball team. "He's one of many of our students who have gained real-world experience during their time at Westfield State and gone on to apply that knowledge to their professional career. We're very proud of his success."
Westfield State University's partnership with the Worcester Red Sox also brings fun and community connections to all our alumni. Last year the Westfield State Alumni attended a WooSox game on July 9. This year Westfield State will be at Polar Park on August 19. Alumni should expect to see additional information on buying tickets in their email or they can contact the Office of Alumni at alumni@westfield.ma.edu